This week, we're diving into Anonymous. Not much more needs to be said, but it's a doozy. Sit back, log in, and let's go. Follow me on twitter and Instagram @shell_pod , email me at shellpod@protonmail.com , and check out the new site at https://whattheshellpod.com
There's a certain power to people not knowing who you are. A bit of a shield that I think many people choose to hide behind today. But, what are they hiding from? Are they scared about secrets getting out? Are they hiding from the face they put on every day, looking for a little freedom after a day of work or school? Or are they up to something a bit more nefarious. Maybe they're putting on a mask of anonymity like a bank robber putting on a ski mask. My name is John Kordis, and today we're going to talk about. Talk about. about. about. bout. bout. out. Out
Hello Listeners of What the Shell. We are anonymous. We have been watching you. Listening. Reading your thoughts. Take note. Because in today's episode you will learn of who we are. How we began. And What the Shell we did to inspire such a massive following. We are Anonymous. We do not forgive. We do not forget. Expect us.
Image Boards
To get into who or what "Anonymous" is. We first need to figure out how it came to be. So let's turn back the clock to 2003. The social landscape on the internet was in an entirely different age. If we have a modern age of the internet today, then these were very much the days of the wild wild west. The only hint of anywhere social media was really going had barely gotten off the ground, and that was Myspace. So we're talking about the first steps of a precursor to where we are now. It was the age of discussion forums, of live journal posts, and recently there was a new kind of platform starting to bud; image boards. An image board was a very simple kind of site where users would interact with an initial post of an image, sometimes replying with ones themselves. Pretty frequently the sites were so bare bones that there weren't user accounts involved either. Over in Japan, one in particular was starting to gain a bit of traction. It was an imageboard side called the Futaba Channel, or as it's more commonly known in the US 2chan. The whole premise of this site was to allow users to post images and discussions relating to games and anime.

4chan history
Well, a fifteen year old named Christopher Poole saw this and decided to try to make an unofficial offshoot of it for english speakers, to make it a bit more accessible. I sometimes wonder if he had any idea, as he deployed the site for the first time, if he had even the slightest clue about how much he was about to change the internet. On October 1st 2003, Chris Poole published the website 4chan.net. The site took many of it's queues from it's older sibling 2chan, being a site for the discussion of anime, table top and videogames, and even things like health and fitness. In the early days, it was a bizarre and unique haven people used to create and share their own content, or to talk about the content they were ingesting.

A lot, and I mean a lot of internet culture today started on sites like this. The lolcats phase, rickrolling, rage comics, they can all be traced back to having started on these boards before making their way out to the internet at large. The most early version of some of the meme formats we see now started on these boards as demotivational posters.

But, as time has proven again and again, whenever a site starts to grow like this, there tends to also include a stain. Boards started to appear on the site that quickly passed the limits of legality and morality including some rather sexually explicit boards. One such board would become a frequent flyer with controversy and the media though and that was the board dedicated to random posts, or as it was known /b/.

While most boards stayed in their own lanes in terms of conversation /b/ had no such qualms about venturing into territory that would make anyone uncomfortable. Radical discussions would start to happen more frequently here that would fall into the category of things like extreme racism or sexism. Far leaning political motives on both sides of the isle would come up, and there would even be some level of activism efforts organized on that front as well.

At the time, the bulk of the userbase could be attributed to boys in their teens and early 20s. There would be the occasional outlier back then but it was simply who the site attracted and circulated with.

I think that the level of perceived anonymity that users had there wasn't really like anything we'd seen before outside of things like old IRC chats. With no accounts and no real user history to show, I think people ran with that and did things on the site that they thought couldn't really be tracked or led back to. It's why I'm using the phrase perceived anonymity here. On the user side of it, it truly looked as though everyone was in the same boat, all posting as an anonymous user. Each post could be anyone and the closest it would come to any kind of username is an ID would eventually appear on the site to help prevent bots or rigged conversations. Even then, the ID would only apply to single threads in an effort to maintain that anonymity.

On the backend though, the site was hosted in the US and ultimately there likely wasn't as much privacy as they made out to have. I'm sure IP Addressed were logged and if push came to shove, cooperation was likely to be had, but we'll get into that a bit later.

My point here is that with every user showings as quote "Anonymous" everyone was the same. It didn't matter who you were, you were an "Anon" as they called themselves. Eventually, the idea that "We are Anonymous" would start to lead to some interesting events.
Mainly started with pranks - Early 2000's
So, as the user base of Anons grew, they started to realize that they held a little bit of power with their group. It started with what were basically pranks. Because these were kids. Some of you might disagree here but it's true, they were by and large a group of kids in their teens. Some of the things they did would be to flood the sites like Club Penguin, or Habbo Hotel with users and make it pretty much unuseable. It might sound like fun but when you dig in close and see that they would pretty frequently flood the chats with anti-semitism or racist remarks it starts to become a bit less light-hearted.
Essentially what they were doing here is a light version of a denial of service attack. By flooding the userbase with their own agenda here, for everyone else it was a hassle to get on and enjoy the product. A modern denial of service in hacking takes that concept except instead of people it's packets or request from a range of computers, usually in an automated fashion, that would take action against a website or service to try and flood it with requests.
These "pranks" would become more and more complex and delve closer and closer to full on hacking as time went on. But, the people of this forum were determined to be, in their minds, on the moral high ground
Hacktivism
You'll remember that in some of our previous episodes, I've talked about hackers operating on the grounds of what they believe to be right and just. In the hacking community we call it, Hacktivism. Whether it's because they think protests aren't enough, or because it's what they know how to do, the black hat community has always had this subset that had been determined to use the skills they've got to dismantle their opposition. In some cases it's a lone hacker ticking away at the system, but in others it's an entire group of people. They'll pool information, share their skills and abilities, and work together toward a single common goal, and in doing so become greater than the sum of their parts.

And this is where we land with this wide group of people on 4chan. What started as pranks, eventually organized, taking the moniker of "Anonymous" to try and do right by what they believed. That didn't mean that they were saints, though. There were people in that group only for the laughs and to be a part of something bigger. But they did do some pretty interesting stuff starting in the mid 2000s.
Hal Turner
We can start chronicling their antics a bit more heavily in 2006, with a man named Hal Turner. Turner, who himself identified as a neo-nazi, hosted a radio show and blog to spread his beliefs any way he could. Well, after Turner himself had been the victim of some of the prank calls that tended to originate out of 4chan, he was able to get the information on a few of the people involved.
Hal Turner, to all his neo-nazi community, decided to publish those details. That would include names and phone numbers. Up to this point, 4chan had been, how they called it, trolling. Just aiming to get whatever reaction they could out of anyone that would listen. In this case, Mr. Turner was in the cross hairs. But, when Turner fired back in this case, Anonymous decided to take this up a notch.
You see, Turner had his website set up that he would pay for bandwidth. The more views the site got, the more it cost to host. With a relatively consistent community, he'd know what to expect for bills each month. However, after he doxxed those people, members of the Anonymous group decided they wanted to demonstrate that he had really messed up. The easiest thing they could do, with the highest impact? Well they made it look like his site was super popular. They flooded it with traffic to the point that the cost to him was enormous, in the order of thousands of dollars. It was a major win for the still budding "Anonymous" but the group had, at this point, started to move away from 4chan and into what was called an IRC chat to become truly Anonymous.

IRC Channels as groups started to form
IRC stands for Internet Relay Chat. Basically it was a form of instant messaging that operated in a way that chat was relayed through a server and allowed for a more private experience. It wasn't Anonymous per se, but privacy was possible with it. And while IRC's are still alive today, they aren't the gold standard they used to be, now used by a decreasing number of people.
Since this episode is heavy with internet precursors, think of this as a distant ancestor to Discord or Matrix.
So, the point here is that with these IRC chat groups, Anonymous started to solidify a bit. Members started to make themselves a bit more known internally and a more widespread recognition of their capabilities began to firm up.
Project Chanology - 2008

Then, in 2008. Anonymous, as I think many of us come to think of it, began to enter the limelight after video of Tom Cruise going a bit off the walls for Scientology became pretty well spread. It wasn't just that the videos were widespread though, it was that the Church of Scientology itself spent an enormous amount of time and money systematically removing the videos wherever they could. You can still find the videos today but it's not super easy. Anonymous, seeing this as a kind of internet censorship attempt didn't really take too well to it and decided to focus some efforts toward a retaliation.

Message to Scientology
They called this, Operation Chanology. That's a fairly straight forward combination of 4chan and Scientology. Mainly, the aim of this attack was, again, Denial of Service attacks. They would distribute their attacks throughout their network of Anonymous members, distributing the load across a much larger area to make things more difficult to block. That kind of attack is, aptly, called a Distributed Denial of Service attack.

Anyways, operation chanology took their aim at anything public they could find to DDOS for scientology. That included websites, phone lines, fax lines, and once they moved past that they'd even manage to leak some church documents as well. It was just well orchestrated enough to look impressive, but when you took a closer look you could see that there really wasn't much depth to what they were doing.

It was widespread enough that is started a bit of a cult following toward the group. It acted almost like a recruitment ad in addition to an attack. Support for the Anonymous was now growing rather rapidly. Part of this was their constant online posting that this was hacktivism. A just cause that anyone could participate in. In fact, they made it really easy to participate even if you had no idea what you were doing.

You see, in the depths of their threads and discussions, a tool was created called the Low Orbit Ion Cannon. It wasn't particularly impressive, but it was easy to use and that's all that mattered. It was a simple interface that you could enter a web address or IP address into, and set an attack on. It would then flood the destination with packets that would potentially knock the system over if it wasn't protected. If this was dispersed all that then needed to be done was to post a time and date, and an attack target, and hope that the Anonymous community joined you in your attack.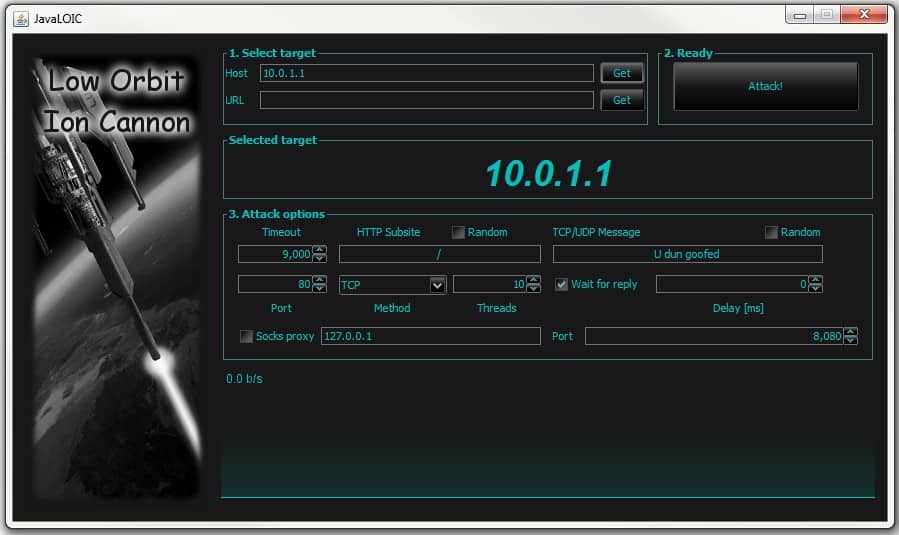 And it worked well. It was easy to find, and easy to use. In fact, I was in high school around this time and knew someone that had it. They had pointed it at our schools website one afternoon and knocked it down. Just with one device. Now, if that was a testament to the school's lack of security or the tools effectiveness? Who's to say. It's probably a little bit of both. The point being, well it worked.

A heavy bit of back and forth would go on between Anonymous, who claimed to be doing right, and scientology who claimed to be the victim of the so called "Internet hate machine". With the encouragement of Scientology Critic Mark Bunker, the group opted to start showing their capability outside of that hate machine designation in the form of more and more legal protests. That included the organization of protests in over 100 cities, internationally, each with it's own Facebook group and IRC channel to facilitate.
The protests delivered too. It was encouraged by a lot of the groups to wear a face covering because scientology often had a history of delving into the lives of its critics. And people took that advice, but one group set the ball rolling on what would become "Anonymous's" most iconic image. The London protest was overwhelmed with people wearing the Guy Fawkes mask. That mask, was pretty well available because of the success of the 2006 movie, V for Vendetta, and the users all felt that the hacktivism meshed well with the message of the film too. The London protests, which ended up being among the largest of the protests organized, was the gold standard for media coverage and cemented this as the look for the group "Anonymous".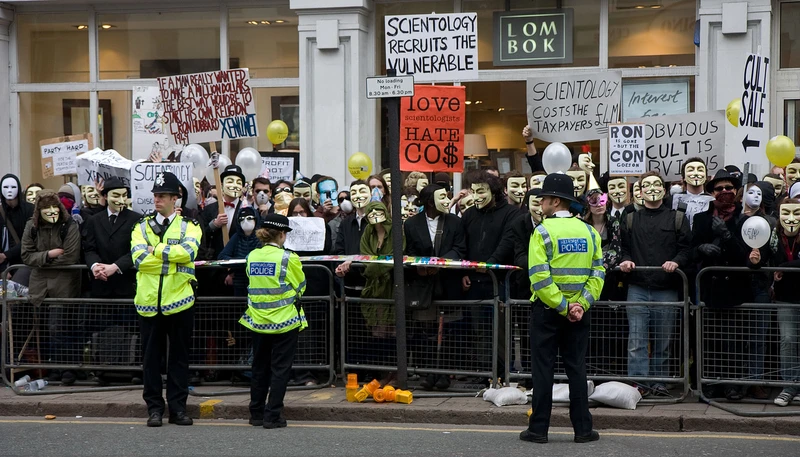 Ultimately, they didn't do too much more than shine a light on the problems in Scientology. But, it can't be said that it wasn't a bright light. The attention it got was rather amazing to see broadcast. And even though Scientology kept going strong after this, it was a big blow to their public image. And even more, it was the increase that Anonymous needed to boost their legitimacy as a threat.
Infighting
Things might feel like they're really blowing up at this point. It's 2009 and the group is a pop culture icon, they're carrying what seem like increasingly more complex attacks, and they're seemingly making some strides in their causes. But as with any group that grows in size like this, it almost becomes too big to be a decentralized group of people. Smaller splinter cells start to form. Groups like Lulzsec branch off into their own subset of the cause, preferring to perhaps have a more specific cause. No matter what the cause, these splinter groups start to distance themselves from the parent group. Personally, I think some part of this was a bit of hacker elitism. I think that some of the more legitimate black hats were a bit unwilling to be associated with what were pretty commonly referred to as script kiddies. A script kiddie being someone that doesn't really know much about the concepts of hacking, they just have some tools they're gonna throw at the problem like that LOIC and call themselves a hacker no matter the outcome. By creating these smaller groups they would be able to curate the membership a bit and really own their own cred. And with that small set of dominoes falling, things kind of died down that year a little. But they'd pick back up in 2010. So that's where we're heading next.
Operation Payback - 2010
It's no secret that those willing to blur the lines of black hat hacking and activism probably weren't squeaky clean in all aspects of their life. One of, what I think, an expected thing here might be something like pirating. I don't think it's out of the realm of possibility to say expect someone involved in Anonymous to maybe pirate movies or software, or really whatever they felt like in the moment. It meshes pretty well with the vibe of being free from the big corporations that a lot of the groups out there really felt like they were putting out there. So, when in 2010 when a bunch of major media corporations decided to try and play their hand at the black hat game, things got a bit weird. Companies like the motion picture association of america and the recording industry of america were getting pretty tired of pirates cutting into their profit margins. So, they thought they'd play a bit of fire with fire.

That's where an Indian company called Aiplex Software comes in to the story. The MPAA and RIA reached out to Aiplex because Aiplex had a history of performing DDOS attacks for a fee. So, to take the battle right up to the pirates ship, so to speak, they were hired to bring down major torrenting sites like The Pirate Bay. Yeah, it's a bit weird, but hey, if you think there were consequences for that you'd be right. Hell, it's why we're even talking about it right now. So, 4chan and Anonymous got wind of this and decided to launch what they called "Operation Payback" on September 19th, 2010. Yet again, it was another DDOS campaign, this time aimed at the MPAA, the RIA, and other major entertainment industries. The attack was pretty successful. This campaign was sporadically successful for almost a month. They went medieval on those companies and effective sieged the castle. Holding near continuous ddos attacks in some form or another for the bulk of that time. The would spend the month attacking the movie industry, the british and american pornography industries, and even going so far as to attack legal firms that would specialize in Copyright Infringement.

It was a bit of a fitting battle in my opinion. I don't think either side of this fight was completely in the right or wrong. On the one hand you can't deny the predatory nature of the entertainment industry, but on the other hand you've got the black hat group that decided a bombardment campaign was the way to express that dissatisfaction. The total downtime across all the targeted sites? Almost 600 hours.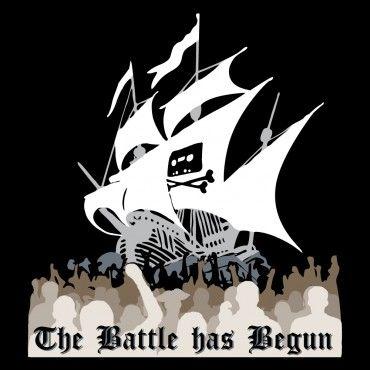 As the operation had died down a bit, it seemed like that was the end of the battle but then, in November of 2010 Wikileaks started to release hundreds of classified documents. This came much to the praise of the Anonymous community but also much to the chagrin of the United States and many of the companies that were seeing their secrets revealed as a part of this as well. Wikileaks, which was a site dedicated to exposing secrets, was starting to experience denial of service attacks against it as well, similar to how the pirate bay and torrenting sites had been attacked.

Anonymous decided this was a fight worth hitching on to and as a part of a statement said released said this:

While we don't have much of an affiliation with WikiLeaks, we fight for the same reasons. We want transparency and we counter censorship. The attempts to silence WikiLeaks are long strides closer to a world where we cannot say what we think and are unable to express our opinions and ideas.

The group decided that they were going to help out by lending some services like:
Offering WikiLeaks an additional mirror
Create counter-propaganda,
organizing attacks (DDoS) on various targets related to censorship
Contact media entities, inform them that Operation:Payback has come out in support of Wikileaks, and has declared war on the entities involved in censoring there information; we will seek public support in a campaign against censorship.
In December, Attacks went on the target Paypal, Visa, and Mastercard. All sites that were refusing to allow donations to wikileaks. Their targets at the end of this campaign expanded to cover over 75 more service interruptions. It's another instance of the group picking a battle and committing where they can, even if it's largely in just a denial of service style attack.
As the movement grew and splintered targets were widespread
Through early 2011 into 2012 things kind of stayed the same for the group. There would occaisionally be spun up instances of denial of service coordination against government sites both domestic to the US and internationally. But as their notoriety grew, I think so did the security industries want to be able to combat them. Different security firms had taken up efforts that would be put toward identifying some of the members of anonymous. After all, if you can put a name to the anonymous faces, then you take away a large part of their power right? That's the entire façade that they're hiding behind here, is their anonymity.

So when, in early 2011 Aaron Barr, the head of security services for the firm HBGary Federal, said he had uncovered identies of some of the big players in Anonymous, it got the attention of the group. He was claiming that he was ready to unmask some of these users for, mainly, the attacks we just talked about as a part of operation payback.

It started with Barr getting his worked published for the financial times, and the day after the site for HBGary had started to receive some strange traffic heading this way. It appeared as though Anonymous was gearing up to retaliate against his company for the story that was published and Barr, wanting to curb this, decided to try and take some action.

You see, Barr, had been taking his time profiling who he believed to be these members through social media and undercover on IRC chats using a handle where he named himself "CogAnon". After he'd piled up enough of it, he'd written his research, started to get the ball rolling on putting it out there and then that story had been published. But, since Barr considered himselg a bit of a hacker as well here, he thought he could appeal to the group by reaching out directly to some of the people he'd identified as its leaders.

One such person, went by CommanderX. Barr had attributed a facebook profile to this guy and reached out directly to him on that site. Saying that quote

"This is my research… I am not going to release names I am merely doing security research to prove the vulnerability of
social media so please tell [redacted] and [redacted] or whoever else is hitting our site to stop."

Originally, CommanderX feigned some ignorance but then Barr pushed on that he wanted CommanderX to tell the leadership of what was happening. CommanderX would scoff at that claiming that Anonymous had grown beyond his control, which is excactly what he wanted.

And with a couple more veiled threats the conversation would fizzle so Barr took to IRC to try and find his way in. He blew the cover of the CogAnon identity by doing this but he was doubling down on his push that this wasn't specifically about anonymous, he had researched much more than that. They didn't seem to be receptive to it and closed out the conversation by asking CogAnon if he'd maybe enjoy what they were uploading right now.

What were they uploading? It turned out to be the entirety of Barrs private emails. While these conversations were happening they managed to get into a machine that wasn't super important in the HBGary network, and pivot over to the company email server. From there they took over 40000 messages from the top executives and uploaded them to be shared through torrents.

An amaizing amount of damage had been done here, the company would definitely see a financial hit from this kind of public breach and they still needed to clean up the security mess on top of that. For this next bit, I'm going to upload the full transcript to my website, whattheshellpod.com, but they went back and forth on this for a bit. with Barr feeling less and less sorry as time went on that he was going to now start working with the FBI. As I'm reading this, it's apparent that the people in anonymous were putting on a bit of a front. I think you can kind of infer that some of this stuff is being done out of fear. They clearly want him to stop, but at the same time they're telling him that he's got nothing real.
[23:53:49] <q> Ohai CogAnon
[23:53:56] <tflow> Hello, Mr. Barr.
[23:54:12] <Topiary> Mr. Barr and his infiltration of Anonymous; "Now they're threatening us directly", amirite?
[23:54:16] <tflow> I apologize for what's about to happen to you and your company.
[23:54:20] <q> Enjoying the Superbowl, I hope?
[23:54:25] <CogAnon> high one sec. please
[23:54:25] <tflow> I really do, Mr. Barr.
[23:54:36] <tflow> You have no idea what's coming next.
[23:54:36] <Topiary> tflow: How are things going with that, anyway?
[23:55:24] <Topiary> CogAnon is clearly super 1337 with his PM psyops skills in the Washington area
[23:55:29] <CogAnon> ok...sure I figured something like this might happen.
[23:55:42] <Topiary> CogAnon: nah, you won't like what's coming next
[23:55:51] <tflow> CogAnon: Can you guess what's coming next?
[23:56:00] <Topiary> Ooh, a fun game - guess!
[23:56:02] <CogAnon> dude...you just don't get it. it was research on social media vulnerabilities...I was never going to release the names...
[23:56:11] <Sabu> LIAR
[23:56:14] <CogAnon> as I told CommanderX last night.
[23:56:16] <BarrettBrown> CogAnon: You went to press
[23:56:22] <Topiary> CogAnon: yeah we read the facebook conversation, and every other conversation
[23:56:23] <BarrettBrown> With info that was largely false
[23:56:24] <q> CogAnon: only that your research like totally failed and all your info was bullshit
[23:56:25] c0s> CogAnon: that article was a hit peice.
[23:56:27] <CogAnon> ok whatever...whoever has done this has tied my hands now though.
[23:56:37] <BarrettBrown> I suggest you go to Bloomberg and explain
[23:56:38] <Sabu> CogAnon: Don't you have a meeting with the FBI Monday morning?
[23:56:39] <CogAnon> ok
[23:56:42] <Topiary> Sabu: he totally does
[23:56:44] <tflow> CogAnon: I feel sorry for what's about to happen. I really do.
[23:56:45] <Sabu> Tomorrow @ 11am?
[23:56:46] <q> CogAnon: we'll send that to your FBI friends, so they have that before your talk tomorrow
[23:56:49] <CogAnon> yep...they called me.
[23:56:51] <n0pants> Moral of the Story: Don't drum up business by banging on a hornet's nest.
[23:57:01] <CogAnon> I have a lot of people calling me.
[23:57:02] <Sabu> You intended of battling anonymous in the media for media gain and attention
[23:57:04] <Sabu> well let me ask you
[23:57:08] <Sabu> you got the media attention now
[23:57:10] <Sabu> how does it feel
[23:57:11] <Sabu> ?
[23:57:14] <CogAnon> yep
…
[23:57:34] <Topiary> Oh guys, what's coming next is the delicious cake.
…
[23:58:53] <nigg> so who wants all of
[23:58:55] <nigg> his emails?
[23:59:06] <Sabu> uhm you have his emails????
[23:59:10] <Sabu> DAMN!
[23:59:14] <nigg> 2.3gb's of gold
[23:59:15] <Topiary> sure, I'd enjoy some 68,000 emails
[23:59:19] <Topiary> can we please have 68,000 of their emails?
[23:59:21] <blergh> lol
[23:59:21] <`k> nigg not ehre
[23:59:22] <tflow> I already have them
[23:59:23] <blergh> what is this?
[23:59:25] <c0s> those emails are going to be pretty
[23:59:25] <Topiary> oh wait we totally already have them
[23:59:26] <`k> here
[23:59:27] <nigg> 68,000?
[23:59:27] <Topiary> trolololol
…
[23:59:50] <tflow> I have Barr's, Ted's and Phil's emails
[23:59:50] <nigg> im talking
[23:59:50] <CogAnon> lol..ok guys well u got me right. :)


Ultimately, this ended with Barr working with the FBI, and Anonymous continuing to attack him personaly. His twitter would get hacked and defaced, he'd become a bit of an internet star of notoriety for a minute, and he'd actually end up losing access to that twitter account too. Anonymous demanded his resignation, ultimately on the last day of February in 2011 he did. He said we was leaving HBGary Federal to focus on taking care of his family and rebuilding his reputation.

I really have to empaphize with him on this. I like to do my research on vulnerabilities and attackers when I can, and I'd like to think that if I could have done something that would ultimately lead to some good by identifying some individuals doing bad, I would. But here we have a guy who, in trying to do the right thing, was squashed pretty hard. It's a sad story Barr. I wanted to highlight this particular instance because I need to make sure you see both sides of this. If you take away from this one thing it should be that anonymous is not one group with a set goal. They can do good, but they can do bad too. And as long as they can get some traction internally, you'd never know what side you're on till it's too late.


Let's move into late 2012 when this happened. After a 20 year old in connecticut went on a shooting spree at Sandy Hook Elementary school, killing 20 in total, members of the Westboro baptist church claimed that they were planning on picketing the vigils for the victims. They had made a major name for themselves for picketing deaths of soldiers, incidents of school shootings, and other tragic events because they're claim is that this is justice for what America let's happen, such as marriage equality. Their claim is it's god's punishment against us. It's messed up. Like real messed up. And well, apparently Anonymous thought so too.

Through a campaign of sifting through public records and social engineering, Anonymous was able to effective dox many of the members that were planning on attending this picket. By doing so, they put the pressure back on the church and it thrived in such volume that they never ended up picketing that event, and backed off entirely. This time, the hornets nest did some good that I don't think many would have argued against.

Occupy Movement Involvement - Oct 2011
I'll say that I'm closing out on one of the bigger events with this episode that started in 2011 but is still having ripples today. In 2011, the occupy wall street movement started to become a force. The Occupy movement aimed to target income inequality, specifically using the slogan that targeted the top 1% of the economy. Regardless of your views on this protest series, it's hard to ignore the impact that was had. Word spread like wildfire and eventually Anonymous got involved as well. Depending on who you ask, the role of anonymous could anything from "well they started it" to "They never touched it" but as always the answer lies somewhere in the middle. What we know the did do, however, was offer more of a support role. For example, when attackers went after the website AmpedStatus.com which hosted the movements site, Anonymous hacktivists contacted David Degraw, the journalist who coined the term the 99 percent and was the foundation for a lot of the information here. They contacted him to offer a more secure and robust site.

That cooperation would lied into Anonymous working with the cause to publish a list of demands as a part of the movements. And when it was clear that wasn't being taken seriously, they used their reputation to organize. They initially tried to organize protests in 23 cities, but numbers weren't great. Throughout the year they tried to drum up more and more support and would organize again in September when nearly 1,000 people would come out to join support. You might remember this video they put out.

Hello Wall Street - We Are Anonymous


This ended up being another example of Anonymous overpromising and underdelivering. They didn't really flood wallstreet but they did get people to show up at least. Their role from then out pretty much stayed the course that we've talked about so far. They ddos'ed government sites as a form of protest and wall street sites where they could. They'd continue to try and get traction on the movement to get the numbers they really hoped for, and if they could they'd hack twitter accounts of anyone against them. It was starting to sound a little bit like a record skipping and repeating the same line right? The unbridlded force they promised never really appeared and the movement would stay largely on the internet. They would try again over the next few years and get a little bit of some more positive results in forming the "Million Mask March". That would be a protest that was aimed to protesting government corruption that would occur on the fifth of november each year. The first and largest of these happened in 2012, but continued to dwindle each year until it effectively fizzled out as well.

So what happened to anonymous? Well technically they're still out there doing their thing. It's just less and less in the limelight. Some of the major players were arrested, and we'll be getting into that in our part 2 of this episode. But honestly I think that what happened here is a lot them either grew up or grew out. Sure there were talented hackers there, but they probably splintered off into some of those other groups. The ones that remained? They tried and ultimately when all they were able to do was ddos a website or launch a brigaide on social media, I think it became a bit harder. That in and of istself would eventually become a task too as protection against denial of service attacks only became more and more advanced. It's easy to see how people may have just started dropping. But this episode was just the tip of the ice berg, the big names of the hacks and some of the big impacts they made. I encourage you to do some research on your time if you want to see how many other things they had their hands in that I didn't have time to get to this episode.
The biggest takeaway for me this episode is honestly the power of the internet mob mentality. This group was frequently pointed toward targets, and if I had to guess some of them only knew what they were doing because a higher up person in the thread told them to do it. It's scary how out of control it could have gotten if someone wanted to point them at something for their own good. It's happened on 4chan, that site that all this stemmed from, before. It'll happen again. Some of these people wanted to just cause trouble, some wanted to find a cause, all of them wanted to make an impact. And with no clear structure, it was just that much easier to bring people on and point them at a target. It's a scary concept, but interesting nonetheless. I'm John Kordis, and thanks for listening to me explain What the Shell Anonymous is, and what they did to earn their reputation.


Before I go, this week, I've got one or two things for you all too. You may have noticed it's Wednesday. Well, in an effort to get this out a more consistent early morning release time I've moved it out a day. This way when you wake up Wednesday it should be out and downloaded for you!

One more thing, if you can please share this with a friend or online. I don't have much more than my own interactions and word of mouth to get us going and from what I can gather there's a couple hundred of you listening. So any help to spread the word will only get us more content in the future.

Lastly, I want to remind you that If listening on your phone isn't the optimal place or you want more content, you can check out my new website. WhatTheShellPod.com . There you'll find links to all of our episodes, playable in browser. You'll also find links to our various social pages including our discord channel where you can come and discuss episodes with me and others In the community. For this episode you'll also be able to see that conversation I was talking about between Aaron Barr and Anonymous members. Thanks for listening, I'll see you all in two weeks with another episode.